Neer Dosa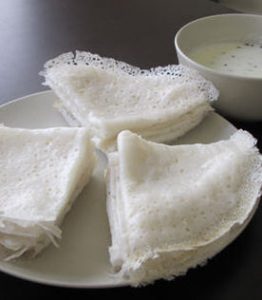 Ingredients
1 cup rice, 2tbsp grated coconut, salt to taste
Method:
Wash and soak rice in water for 3 hours.
Grind rice with coconut till smooth, the consistency of the batter is like water. You will know that the batter has the right consistency when it does not form a thick layer on the back of the spoon. Use a onion pierced with a fork to oil the surfce of the cast iron tava before pouring the batter on tava. You may also use a non-stick tava.Now pour little oil all around the dosa and cook until it turns darker on surface. When dosa starts separating from corners then give it a fold. There is no need to roast dosa from other side as its very thin.
Serve hot with green/white coconut chutney or with Chiecken Masala (Gassi).
Kadle Manoli Ajadina (Dry)

Ingredients
1/2 Kg Ivy Gourd /Manoli (tip removed and slit)
1 cup Small Black Chickpea
salt to taste
5 dry red chillies (roasted) 3 long red chillies and and 2 small chillies
3 tsp coriander seeds (roasted)
1/4 tsp  cumin seeds (roasted)
3 garlic (with skin)
1 tsp turmeric powder
3/4 cup  fresh  grated coconut
2 tsp jaggery (adjust to taste)
For Seasoning
2 tbsp oil
1 tsp mustard seeds
1 tsp urad dal
3 garlic (crrushed)
5 to 6 curry leaves
1 dry red chilly
Method
Soak Chickpeas in water overnight.Cook  Black Chickpea with little salt in pressure cooker , drain and keep aside.
Place Ivy gourd/ manoli in a vessel with little water and salt and cook till done and water evaporated. Keep aside.
Place  roasted red chillies, coriander seeds, cumin seeds, turmeric powder, garlic and jaggery in a small mixie jar and grind to fine powder. Add coconut and grind for less that 10 seconds (coconut should be coarse). Keep aside.
Place a pan on medium heat , add oil, when oil is hot add mustard seeds, when it starts popping add urad  dal and fry till it turns golden brown. Add crushed garlic, curry leaves and red chilly and stir for few seconds.
Now add the ground coconut masala and fry for a minute or two to remove raw smell.
Add cooked Chickpeas and Ivy gourd / Manoli and mix well. adjust salt. If its too dry sprinkle little water.Cover and cook for 4 to 5 minutes. Take off the flame. Serve with rice.
Bangude Kayadina (Fry)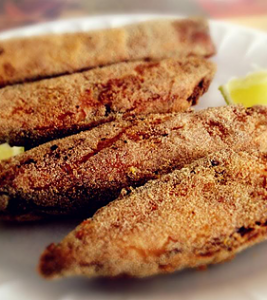 Ingredients
1 kg mackerel fish (cut to 2)
4 tsp red chilly powder
1 tsp turmeric powder
1 1/2 tbsp vinegar
salt to taste
4 tsp rice flour (optional)
5 to 6 tbsp oil(I have used coconut oil)
Method
Clean and cut the fish into 2 pieces,if the fish is big cut to three pieces.
In a vessel mix vinegar,red chilli powder, turmeric powder,salt and rice flour. Add little water to make thick paste.
Cover the mackerel with the masala paste and keep in the fridge for few hours.
Heat a frying pan on medium flame,add oil, when oil is hot,place the marinated fish on the hot pan and fry till done,4 minutes on each side.