Gokarnanatheshwara Kshethra
Kudroli Shree Gokarnanatheshwara Kshethra is a temple with magnificient features which stands out like a heavenly abode on earth in the beautiful coastal town of Mangalore.
Way back in the 18th century, entry into the temples was banned for backward classes and the downtrodden. So the leaders & senior citizens of Billava community longing for equality on matters like these gathered themselves & sought solace from the spiritual head of their community "Brahmashree Narayana Guru", who had achieved an incredible in religious revolution in Kerala during those times of divine movement. He had proclaimed that every creation of God has a right to worship God and there is only "One Caste, One Religion and One GOD". He built 101 temples all over Kerala and provided direct entry into the temple to each and everyone. The senior leaders of the community under the leadership of Sri Sahukar Koragappa went to plead with Guruji to extend the movement and his deeds to Mangalore as well. Shri Narayana Guruji consecrated the Shivalinga that he had brought to Kudroli temple at Mangalore and named it as "Kudroli Gokarnanatheshwara" in the year 1912.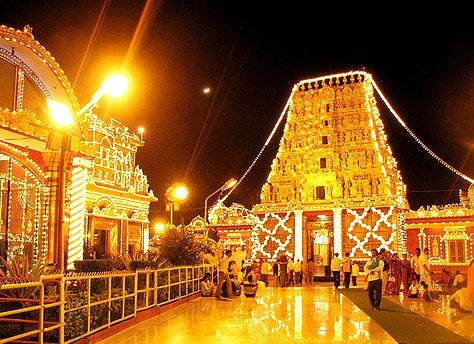 The temple combines the modern architecture with traditional science of sculpturing on the themes of Prateeka Sampradaya of Adhwaithamritha. Sculptors Sri S.K.Achar & his son Sri Dakshina Murthy undertook the modernization work of this temple under the leadership of Shri Janardhana Poojary – Former Minister of State for Finance, Govt. of India; who is the architect of renovation & reconstruction of this glorious temple. The present temple was built in the Chola style of architecture from its original Kerala style. The new gopuram is 60 feet in height and very beautiful. The renovated Gokarnanatha Kshethra was inaugurated by the former Prime Minister of India Rajiv Gandhi in 1991, shortly before his assassination during an election rally.
The temple has an entry porche of the elephant – Gajaraja and has an expanse of 2 Lakh sq. ft. complete with marble flooring. Lakhs of pilgrims belonging to different castes, communities & religions come and offer prayers here. There are instances of many people who have been cured from different ailments by the grace of Lord Gokarnanatheshwara. Billawar Association, Mumbai has donated the Guru-idol to the Temple.