"OLUME" a Unique Gathering of all Tulu-Kannada Social Organizations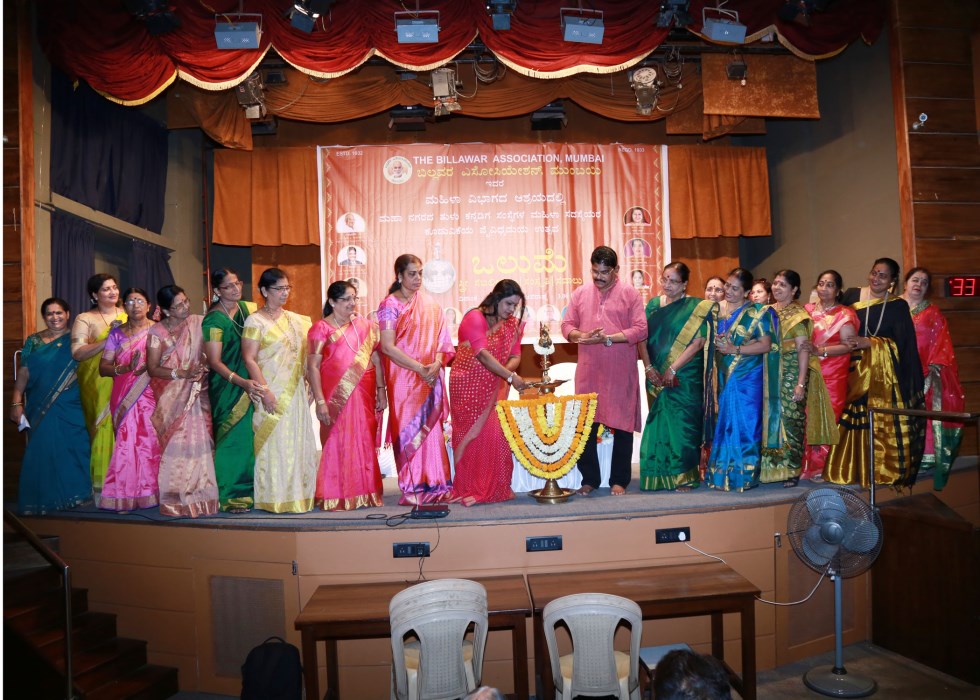 The Billawar Association, Mumbai in association with Mahila Vibhag had organized a unique function "OLUME" aimed at women empowerment and unity, on 25th February, 2018 at Billawa Bhavana. Members of Mahila Vibhag of all Tulu-Kannadiga social organizations in Mumbai have participated in the function and also offered variety entertainment programme and thereby enlightening the sentiment towards unity, solidarity and empowerment of women.
Hon'ble Mayor of Mangalore Municipal Corporation, Mrs. Kavita Sanil, Chairperson, MahilaVibhag, Bunts Sangha, Mrs. Ranjani Sudhakar Hegde and Social Worker Mrs.Pramila G. Poojary were Chief Guests.
President of The Billawar Association, Mumbai Shri Nithyanand D. Kotian in his Presidential address said let "OLUME", friendliness bring unity amongst the women from all caste and creed and lead equality and harmony in life.
The Programme was followed by a debate on "Modern Women's Challenges and its Illumination " was organized under chairmanship of Dr. Sunita M. Shetty, a leading writer, orator and social worker. Mrs. Divija Chandrashekhar of Thiya Samaj, Mumbai, Dr. G.P. Kusuma, former editor of monthly magazine "Mogaveera", and writer/ poetess Mrs Anita P. Poojary, Takode presented their views on the above subject and was highly appreciated by the audience.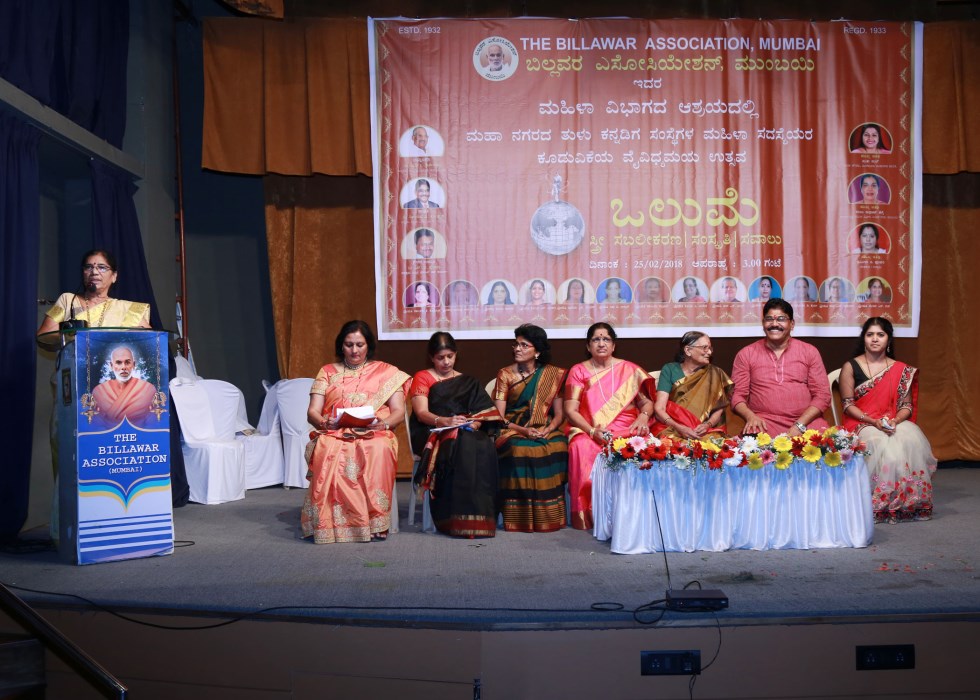 On this occasion Mrs. Prema S. Rao, Chairpersons of Mahila Vibhag, BSKB Association, Mrs. Tara N. Bhatkal, Chairperson of Mahila Vibhag, Ganiga Samaj, Mumbai, Mrs. Sarojini Shettigar, Chairperson Mahila Vibhag, Padmashali Samaja Seva Sangh, Mrs. Rajivi Kanchan, Chairperson, Mahila Vibhag, Mogaveera Vyavastapaka Mandali, Mrs. Jayanthi R. Moily, Chairperson, Mahila Vibhag, Devadiga Sangha, Mumbai, Mrs. Shobha Suresh Bhandari Kadandale, Chairperson, Mahila Vibhag, Bhandari Seva Samiti, Mumbai, Mrs. Mamata S. Gujaran, Chairperson, Mahila Vibhag, Kulal Sangha Mumbai, Mrs. Lata D. Ullal, Chairperson, Thiya Samaj Mumbai, Mrs. Shubha S. Acharya, Chairperson, Mahila Vibhag Kanataka Vishwakarma Association, Mumbai, Mrs. Sarojini D. Kundar, Chairperson, Rajaka Sangha, Mumbai, Mrs. Sharada Shyam Shetty, Chairperson, Mahila Vibhag Bunts Association and Mrs. Shobha V. Bangera, Chairperson, MahilaVibhag, Safalya Seva Sangh, Mumbai, were present and were felicitated with flower bouquets, shawl and momentum.
Vice Presidents Shri Raja V. Salian, Dr. U. Dhananjay Kumar, Purushottam S. Kotian, Hon. General Secretary Shri Dharmapal G. Anchan, Hon. General Treasurer, Shri Mahesh Poojary, Karkal, Joint Secretary Mrs. Ashalata Kotian, Chairman, Youth Sub Committee, Shri Nilesh Poojary Palimar, Shri Uday Poojary from Billawara Kudla, members of Managing Committee, MahilaVibhag were present during the function.