Shree Gurunarayana Sahitya Prashasti 2020-21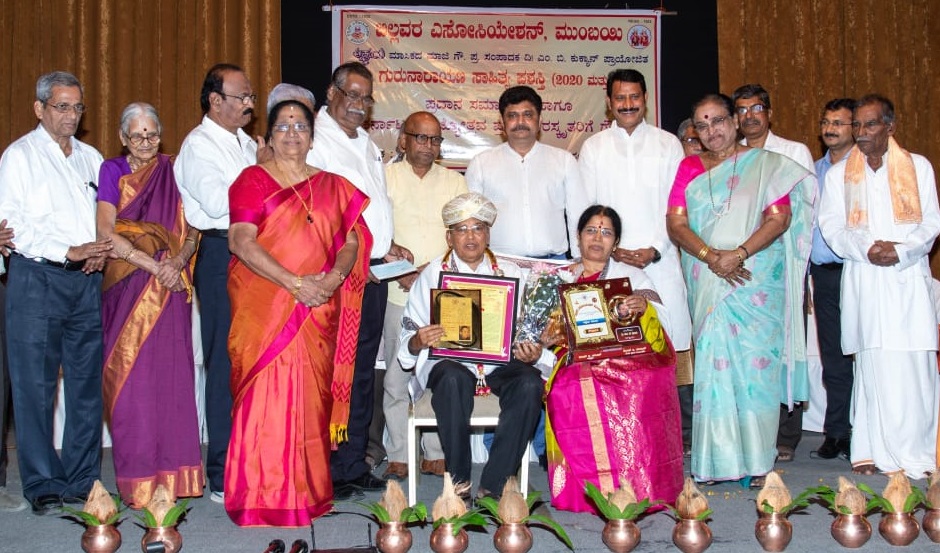 The function of Annual Shree Gurunarayna Sahitya Prashasti 2020 & 2021 was held on 18th March, 2022 at Billawa Bhavan, Santacruz East. The Award is sponsored by Late Shri M.B. Kuckian (Hon. Chief Editor of Akshaya). The Award went to the writer Shri. Babu Shiva Poojary for the year 2021. Shri. Vishnu Nayka Ankola – Journalist – Winner of Sahitya Prashasti-2020 couldn't attend the function due to illness.
Senior Journalist Shri. Dinesh Amin Mattu was the Chief Guest. He pointed out that Shree Narayana Guru's movement was not only for religious freedom, but it also aimed at bringing about a change in cultural and social life of Billawa community. He highlighted the importance of education for the development of the community and how Guru had stressed upon real education comprising of spiritual studies and academics.
He appreciated the work done by Billawar Association in recognising the works of prominent Billawa writers, folk-artists and poets. He mentioned about how Shri. Babu Shiva Poojary is a walking University himself, with all the researched knowledge about our society, our ancestors and Billawa heritage.
Swamiji and other dignitaries presented the award to Shri. Babu Shiva Poojary. Shri. Babu Shiva Poojary quoted, "You cannot create history if you forget your history", hinting about the importance of learning about our roots, culture and our splendid legacy, and that it required more writers to be engaged in this historical research and writings. He cited an example of Freedom Fighter Damodar Bangera who remains an unsung hero due to lack of records.
The Peethadhipati of Brahmashree Narayana Guru Math Soluru of Renuka Peeta, Shree Vikhyatananda Swamiji who in his ashirvachan, said, "There are many children in our society who cannot afford education. We need to recognize and encourage them. I am always working in this direction."
Karnataka Rajyotsava Award-2021 winners Author Bannanje Babu Amin, Author-Poet Dr Sunita M Shetty, Journalist Chandrasekhar Pallethadi and BSKB President, Dr Suresh S Rao were felicitated.
Speaking on the occasion, Bannanje Babu Amin said that the Billawar Association Mumbai is working for the good of society without discriminating on caste, creed etc.
Dr. Sunita Shetty said that a social institution should be like a temple. Social and cultural development programs should be the soul of such an institution and that Billawar Association has always been active in this regard.
The President Shri. Harish G Amin spoke about how the suggestions made by the speakers will be considered for the betterment of the society. Shri. Keshav Kotian gave vote of thanks.