We are thrilled to announce an ONLINE QUIZ on The Life and Teachings of Brahmashree Narayana Guru.
Start Time: 11 a.m. (Indian Standard Time)
Quiz Date : Sunday, 13th September, 2020
Duration : 15 minutes
WHY SHOULD YOU ATTEMPT THE QUIZ?
You will get a chance to brush up your knowledge about the life and teachings of our Guru. The first prize will be awarded to the person submitting the maximum number of right answers in the shortest time. Prizes will be awarded to TOP-10 scorers. The quiz details and the scores of the remaining participants will NOT be revealed to anyone.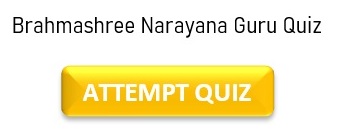 WHEN CAN YOU KNOW ABOUT THE RESULT?
The results will be published on this site on 20th September, 2020. SMS intimation will be sent to the winners.
QUIZ RULES & GUIDELINES:
The quiz-link will be made available on this page on 13th September 2020. The link will also be SMSed to the persons who have registered in advance.

The quiz will

start at 11 a.m. and

will close at 11.30 a.m. You must submit the quiz before 11.15 a.m. No answer will be saved unless submitted in time.

Use Chrome Browser for the quiz.

Update your Chrome browser well before the quiz starts, to avoid any technical issue.

You may use mobile devices, desktop, or laptop to attempt the quiz.

Ensure proper network connection on your device.

Only the first & earliest attempt submitted by the participant will be considered if the participant successfully submits the quiz more than once or if the same mobile number is used by multiple participants.

The prize will not be awarded to a winner if the mobile number of the winner cannot be verified.

The quiz is open to all persons belonging to Billawa Community.

By providing your mobile number to us, you agree to receive SMS messages from The Billawar Association, Mumbai.

The Association reserves the right to alter rules related to the quiz without intimation to the participants.

The decision of the Association will be final.

Click here to read about Guru.
PLEASE SHARE THIS PAGE