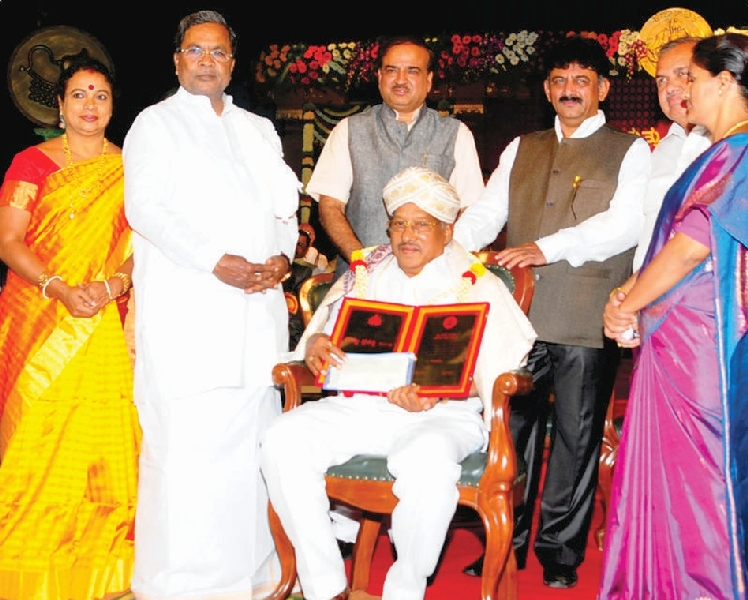 On Dec 24th 2014 Govt of Karnataka has honoured our beloved leader Shri. Jaya C. Suvarna with the highest civilian award "Karnataka Rajyotsava Prashasthi" for his outstanding achievements and service to humanity.
Born in Adve, near Padubidri in Karnataka, Jaya Suvarna forayed into Mumbai as early as 1968 and set up hotel business and toiled hard to establish it. By 1980 he became a name to reckon with in south Indian hospitality industry.  He did not stop at that.  He took the stewardship of The Billawar Association in the year 1991 and quickly established 22 local offices and infused vibrancy into its working and galvanized the community in a formidable force.  His vision of building Billawa Bhavan became reality in the year 1995.  Hard task-master as he is, he did not stop at that.  Jaya Suvarna took up the stewardship of The Bharat Co-operative Bank as a Chairman in the year 1991. Soon the bank established itself as one of the well managed and financially sound Multi-state Co-operative Banks which is marching towards opening of its 100th branch by August 2016.
Today Jaya C. Suvarna is loved and admired by all community leaders and associations for his dynamism and practical approach.