Medical Emergencies Programme
MEDICAL EMERGENCIES AND HEALTH MANAGEMENT TRAINING PROGRAMME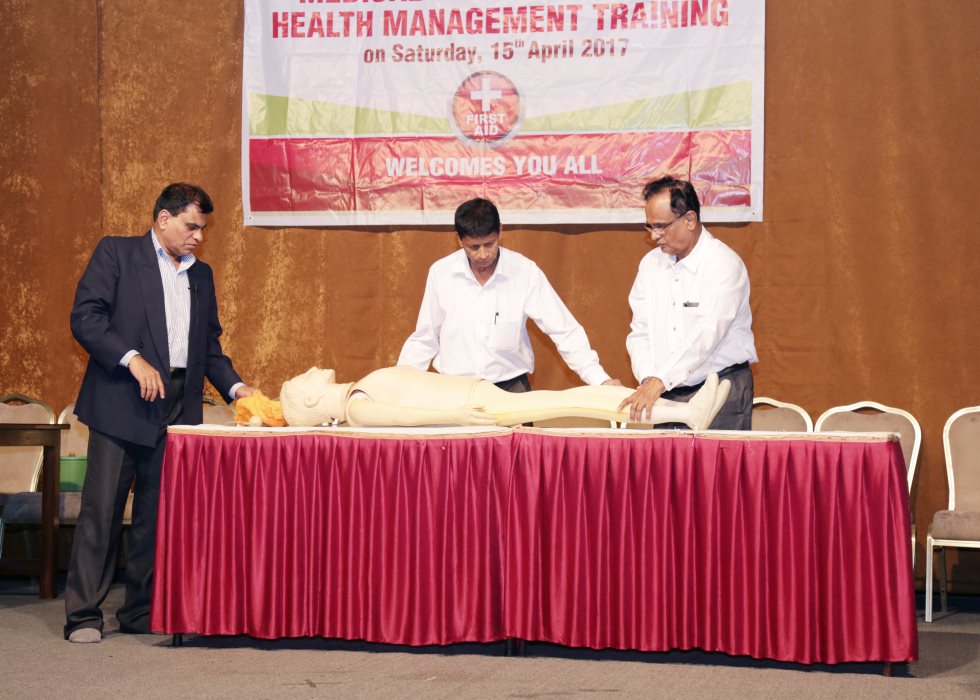 Medical Emergencies and Health Management Training got off with a sober note with lighting of the lamp by President N.D.Kotian along with Dr.Satishankar Kamath, Hon. Gen. Secretary -Mr.Dharmapal Anchan, Vice Preisdents Dr. U. Dhananjay Kumar, Mr.Shankar D.Pooajy, Mr.Bhaskar V.Bangera, Mr. Raja V. Salian and Smt. Shakuntala K.Kotian – Chairperson, Mahila Vibhag and Vishwanath Tonse – Secretray Education Sub Committee.
Honorary Secretary welcomed the guests and made introductory speech.
Dr.Satishankar Kamath, Divine park training coordinator and International SOS and trainer of Advanced Medical Course had conducted the programme. He explained when, what and how medical emergencies occur and described some emergencies he had personally handled in day to day life in Mumbai. The training session was very interesting. A huge mannequin (Plastic doll) was placed on table on the stage. The movement of organs and functions of vital parameters were explained and specified how the "Golden Hour"  is important in saving life. Dr. Kamath demonstrated how it is possible to safely revive an unconscious, breathless person within four minutes.  CPR (Cardio Pulmonary Resuscitation) technique was explained and a practical demonstration was done with the help of a mannequin.  He also demonstrated how to give chest compression with artificial ventilation (mouth-to-mouth respiration) in an effort to manually preserve intact brain function until further measures are taken to restore spontaneous blood circulation and breathing in a person who is in cardiac arrest. Audience were called on stage and asked to perform CPR. Emergency rescues and movements of injured person were also demonstrated.
Knee pain is a common problem in today's life and useful exercises to alleviate knee pain were demonstrated which can be done easily at home.
Common problems of depression amongst the youth was analysed and causes and symptoms were highlighted. Parents were cautioned against the growing suicidal trend among children.
Stage Programme and honouring the Doctors and felicitation of Dr.V.B.Amin :
Chief Guest:  
Dr.Satish Sanil, Dentist, BDS
Guests of Honour:
Shri .N T Pooajry, President -The Billawa Jagruti Balaga and BCCI
Dr. Karunakar N Bangera, MBBS
Dr. Chandrahas Poojari, MD (Radiology)
The guests were honoured with shawls, bouquets and mementos for their achievement and for bringing  fame and name to the community by establishing their own clinics and nursing homes in this metropolis.
On this occasion Mrs. Sumalata V Amin and Dr. V B Amin were honoured for their relentless quiet and dedicated service to the masses around Kalina from his dispensary. Dr. Amin's regular service to Billawar Association at Koti Chennaya Sports meet every year was also remembered. Dr.Amin was presented with scroll of honour, bouquet and shawl by the President and other dignitaries on the dias.
Dr.Satish M Sanil spoke about importance of oral hygiene, changing trends and availability of various advanced treatment. He explained and cautioned audience about the essential area of oral hygiene and remedies thereof.
Dr. Karunakar N Bangera explained the essence of medical practitioners and Dr. Chandrhas Pooajry spoke about the progress and avenues open for youngsters.
Mr. N T Poojari appreciated the Medical Emergency Training Porgramme and expressed the need to keep up this trend . He spoke about the social service being done by him and mass-marriages conducted by him at Kundapur .
Dr. Kamath took direct questions from the audience and at the end of the programme he answered the questions received in writing.
In his address President Mr. N D Kotian spoke about the service and achievements of Doctors who were honoured in the programme. He suggested that more such workshops should be organized with the help of these selfless, visionary  Doctors. He advised that the new generation of Billawas should  inculcate such virtues.
All Sub-Committees particularly, General Help Sub Committee, Youth Welfare Sub Committee and Mahila Vibhag had extended their whole hearted support for the success of programme.
The meeting ended with vote of thanks by Education Sub-Committee Secretary Mr. Vishwanath Tonse.