87th Annual General Meeting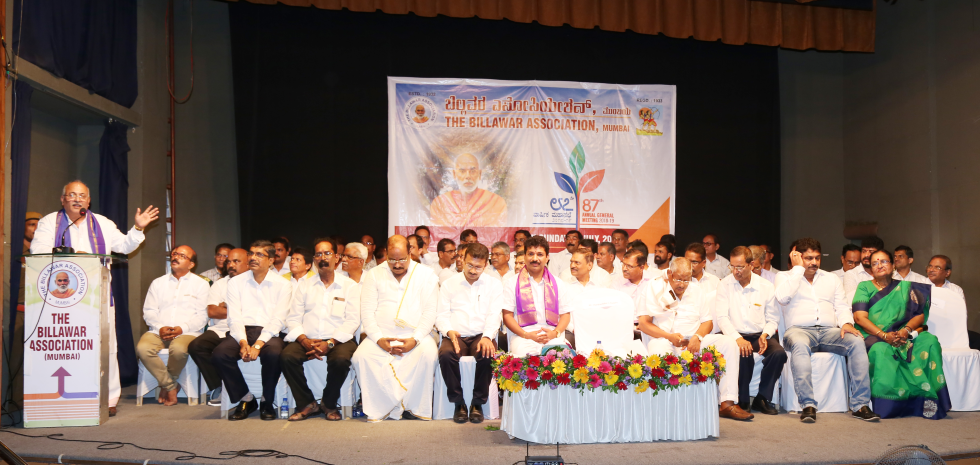 The 87th A.G.M. of The Billawar Association, Mumbai was held at Billawa Bhavan on 7th July 2019, under the Presidentship of Shri Chandrashekar S Poojari. After seeking blessing of Brahmashree Narayana Guru , the meeting started with prayer by Ms. Vidhita Anand Poojary. Annual General Meeting began with welcome speech followed by keynote address by Hon. Gen. Secretary Shri Dhananjay S. Kotian. The President accompanied our mentor Shri Jaya C.Suvarna to the dias. President began the proceedings as per the notice on the Agenda. Shri.Harish G Salian Joint Secretary read the minutes and accounts for the year 2018-2019 and the same was adopted unanimously as proposed by Mr.N.D. Kotian and seconded by Shri Purshottam S Kotian. Accounts presented for the year 2018-2019 was also approved and adopted unanimously. A.G.M also unanimously approved the appointment of M/s Ashwajit Associates, Chartered Accountants as auditor for the year 2019-20. This year Association began unique system of selecting outstanding Local Offices and Best Worker of Managing Committee.
This year selection panel had short listed following local offices for honoring.
Best Local office • I Prize Mira Road Local Office • II Prize Vasai Road Local Office • III Prize Bhiwandi Local Office
Consolation Prices were given to the following Local Offices:
Thane Local Office, Borivali Local Office.
Best Performing Managing Committee Member Award was presented to Mr. Ashok Kuckian, Sasihitlu.
The following best performing Gurunarayana Free Night High School students of S.S.C were honored. Pooja D Chauhan 89.61%, Divya D Chauhan 79.06%, Shipra Sheikh 78.08%.
General body placed on record its appreciation of the Teachers and Management team headed by Shri. B.Ravindra Amin for the best S.S.C results. This year Gurunarayan Yakshagana Mandali is celebrating its 75 year Celebration and an appeal made on for the generous donation and to sponsor the play show is released on the occasion.
Among the audience Shri M.N.Sanil, Shri L.V.Amin, Shri.Varad Ullal, Shri.Jayakar D.Poojari, Shri.N.T.Poojari, Shri. Harishchandra S.Poojari, Shri T.R.Shetty, Rohit Suvarna,Advocate Ms.Rohini J Salian ,Ms.Pooja D.Chauhan spoke on the occasion. Shri.Nithyanand D.Kotian spoke appreciably about the performance and working the new committee .They also and gave valuable input regarding areas of improvement. Gejjegiri Nandanabitthle Project, Shri. Sridhar Poojari,Shri.Jayant Nadubailu,Shri Pithamber Heraje spoke about project and appealed to audience for generous donation. Shri. Dharmesh Salian,Joint Secretary called out the names of the prominent donors and service providers and they have been honored and presented bouquets. Our mentor Shri Jaya C. Suvarna in his address appealed the audience to contribute generously for fulfill our vision of making the Shree Narayana Guru Education Institute, Padubelle a unquie one. President Shri Chandrashekar S Poojari in his presidential address elaborately mentioned about the work done at Padubelle and appealed for generous donations for accomplishing the task of making Padubelle Gurunaryana Institue a unique one. Shri Ravindra Shanti proposed vote of thanks.