85th Foundation Day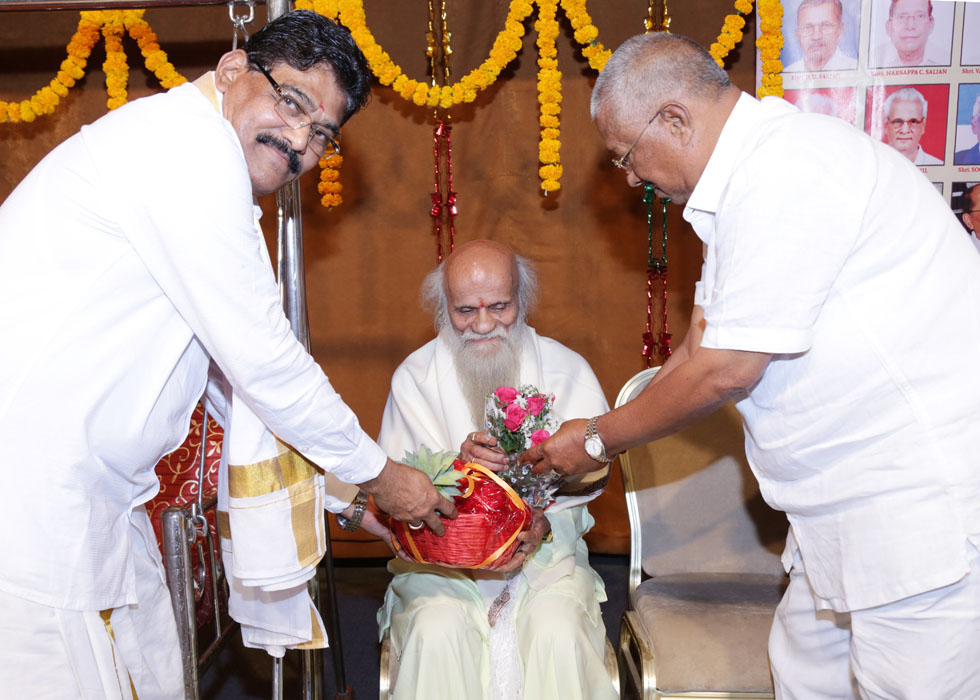 85th Foundation Day and Honouring the Achievers Programme at The Billawar Association, Mumbai.
The foundation Day Programme got off to a very auspicious beginning by lighting of the 85 lamps symbolically at the feet of Shree Narayana Guru at Billawa Bhavan on 24th Jan 2017.
The Billawar Association, Mumbai which was established in way back 1932, engaged in galvanizing the community and shaping it into a leading social organization and it made mark in the history of Association in Mumbai. Association which started its modest beginning from the small premises Raghunath Dadaji street and now owns magnificent building "Billawa Bhavan" at Santacruz East.
Several veteran of the community have contributed and toiled hard in its long journey. Association under the leadership present President Shri. Nithyanand D Kotian thought it fit to identify and felicitate few of them individually on this 85th Foundation Day under the guidance from our community leader Shri Jaya C. Suvarna. So, to start with eighteen individuals have been chosen for their valuable contribution and were honoured on 24th January, 2017 at Guru Narayana Sabhagraha Billawa Bhavan.
Stage Programme began with lecture on the preaching of Shree Narayana Guru by renowned scholar Shri Muddu Moodubelle, followed by validatory speech by Shree Shree Shree Suvarna Baba of Runda Malini Devasthana, Powai.
Other dignitaries on the stage were Jaya C. Suvarna,Chairman, Bharat Co.op Bank (Mumbai)  Ltd, Nithyananad D Kotian, Shankar D Pooajry, Dr. U Dhanajay Kumar, Raja V Salian, Bhaskar V Bangera, Smt. Shakuntala Kotian, Dharmapal G Anchan and Mahesh Poojary Karkala.
Shri Dharmapal G. Anchan, Hon. General Secretary welcomed the dignitaries and Shri Harish Hejmadi compered the programme.
Shri. Gopal Kenchanakere (GK) of Meera Road Local Office welcomed the guest in Yakshagana Style and Bhagavatike by Shri Muddu Anchan of Guru Narayana Yakshagana Mandali.
Guests who have been honoured were:
1. D.U Salian Ex-Vice President The Billawar Association, Mumbai.
2. Narsappa C Salian, Business man, Philanthropist, Social worker.
3. Vasudeva R Kotian, Ex-Vice President,Ex. Hon General Treasurer, The Billawar Association, Mumbai.
4. M B Kukian, Ex-Hon. Editor, Akshaya and Ex-Vice President, The Billawar Association, Mumbai.
5. Varda Ullal, Ex-President, The Billawar Association Mumbai.
6. T Giriya Pooajri, Hotelier ,Philanthropist and Social Worker.
7. N M Sanil Ex-Hon.Treasurer,The Billawar Association, Mumbai.
8. Sooru C Karkera, Ex-Managing Committee member, The Billawar Association, Mumbai.
9. Suresh S Poojari, Ex-Managing Committee member, The Billawar Association, Mumbai.
10. L.V.Amin, Ex.President, The Billawar Association, Mumbai.
11. Dayanada Bontra, President, Gujarat Billawara Sangha, Gujarat.
12. Gangadhar Amin, President, Billawara Samaja Seva Sangha, Nashik,
13. K.Bhojaraj, Industrialist, Philathrophist, Social Worker.
14. G M Kotian, Ex-Chairman, The Billawar Association, Borivili Local Office.
15. Mohan C Poojari, Founder, Gujarat Billawara Sangha, Gujarat.
Special Honour to
1. Shridhar Pooajari, Vice President, Municipal Corporation, Lonavala.
2. Dr.RajshekharKotian, Actor, Director, Producer, Awardee State Film Producer, Doctorate from Malaysia State Royal Peace Foundation
3. Dr.Dayanand Kumar, (Doctorate conferred by Nagaland Global Open University and Ex.International athlete).
On the occasion Smt. and Shri Purushottam Kotian , Vice President Billawa Jagrithi Balaga and Shri. Ashwajit Hejmadi, Charted Accountant were also honoured.
Family members of Billawar Assocaition founder member Late Shri M.Annappa – Mr. Keshava Anchan, R A Kotian, Gangadhar C Kotian, R D Kotian,Narayan Kotian, Navin N. Bangera were also honoured.
Gejjegiri Nandanabithal Koti Chennaya Moolasthana foundation Stone laying ceremony Invitation Card was also released by Shri. Jaya C Suvarna in the presence of Shri. Deepak Kotian, Hon.Treasurer Shri Gejjagiri Nandanabithal Devi Baidethi Koti Chennaya Moolashtana.
Programme ended with vote of thanks by Shri Dhananjay S. Kotian, Joint Secretary.